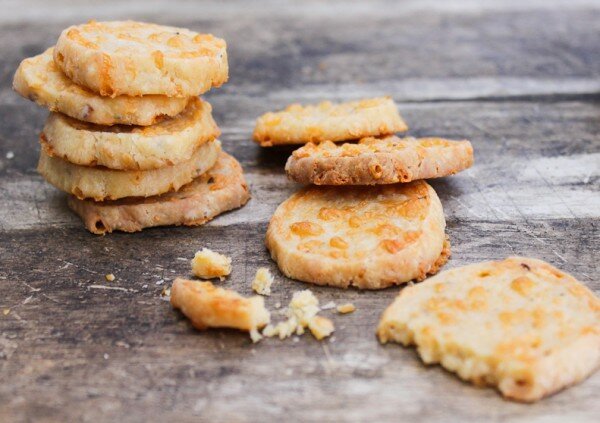 Once a month I play Bunco with a very diverse group of women. In my previous life across the ocean, I enjoyed playing cards and board games with my friends and I am still very passionate about sharing a few leisurely hours in a relaxed and lets-pretend-to-be-competitive atmosphere.
First time around I was a complete novice, ignorant of the simple rules. It did not help that I was the newest member of the Bunco tribe that had previously met for years. I was understandably anxious, but my fears were assuaged immediately by an exceptionally warm communal welcome that included a glass of red wine and a nice and versatile spread of nibbles. I felt comforted by the thought that these women are witty, funny, approachable, and as eager to pop a cork on a bottle of wine as I was.
As I said, the rules of the Bunco game are stupidly simple and not meant to be challenging, nor ambiguous. Anyone can win, and even if you lose, you can win. Throughout the night, I switched tables, rolled the dice, and got to know my fellow Bunco-ites. I concluded that the point of the game is not to win, to compete, to be better, but to make friends, to relax, and to enjoy the company.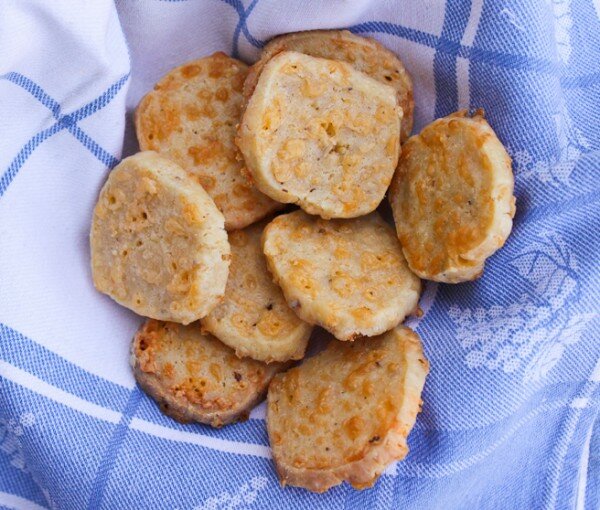 I was introduced to the group by my friend and neighbor as a food blogger, a "foodie", and a make-it-from-scratch kind of girl. It is only logical that I would think really hard about the potluck dishes I had to bring, having to uphold my reputation. Food for Bunco nights is supposed to be fun, unpretentious, and easy to eat. Small portions and bite-size offerings are hugely appreciated as we eat while standing up, holding a plate and a glass of wine.
The last time we met, I had to work during the day. I knew that I would not have enough time to make something very special and time-consuming, but bringing food bought at the grocery store was definitely out of the question. Having decided that I had all the ingredients necessary to make cheese crackers, I rolled up my sleeves and got to work. I was confident that these little cheesy bites would be popular with the ladies, as they pack just enough punch to wake up your palate in the most delightful way.
I was not disappointed: the crackers were a success, not only with the members of my Bunco group that night, but with my girls and Freida in my absence. I now have a standing request for these easy snacks, one that I am more than happy to comply with. Crackers are easily adjusted to tastes and availability of ingredients, very simple and fast to make, and satisfy kids and adults equaly. And my Bunco ladies never suspected that I did not slave in the kitchen for hours to bring these cheesy morsels to them.
I used Special Reserve Extra Sharp Tilamook Cheddar Cheese and it was divine! No, Tilamook cheese company has not supplied me with cheese – I just happen to love it.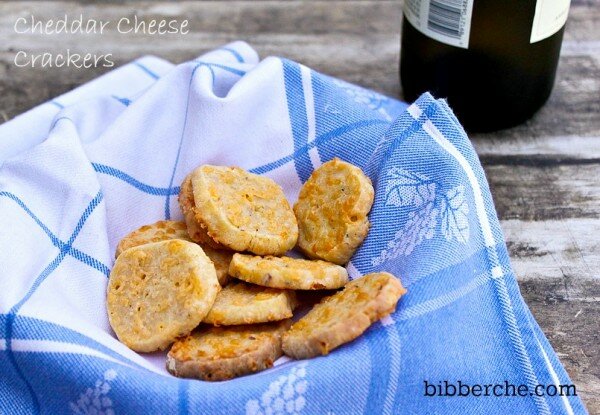 | | | |
| --- | --- | --- |
| It's Time for Bunco: Fast and Easy Cheddar Cheese Crackers | | Print |
Prep time:
Cook time:
Total time:
With just a few ingredients, these intensely cheesy bites can be on the table in no time. Serve them as an appetizer or a snack with a cold beer or glass of wine.
Ingredients
1 stick unsalted butter at room temperature
1 egg
8 oz sharp, good quality cheddar cheese
1 tsp coarse salt
½ tsp red pepper flakes
½ tsp mustard powder (optional)
½ tsp freshly ground black pepper
1½ cup all-purpose flour
Instructions
Combine butter, egg, cheese, salt, red pepper flakes, mustard powder, and black pepper in a bowl of a stand mixer (as I still do not have, but covet, a stand mixer, I placed the ingredients in a large bowl and used my loyal hand-held mixer).
Pulse until it all comes together.
Add flour and pulse some more, to combine.
Place the dough on the cutting board lined with plastic wrap and shape into a log approximately1½ inch in diameter.
Wrap the log in plastic wrap and place in the refridgerator for a few hours (if you are short on time, as I usually am, you can place it in the freezer for 20 minutes).
Preheat the oven to 350F and line two cookie sheets with parchment paper.
Cut ¼-thick circles from the log and place them on cookie sheets, leaving about 1 inch space in between.
Bake for 15-20 minutes, until golden brown and crispy, switching cookie sheets after 8-9 minutes.
Let the crackers cool completely on the sheets before you take them out to a platter.
Makes 24-30 crackers, depending on thickness.