About thirty years ago, father acquired a piece of land in the hills overlooking the town. Deda-Ljubo gave him half of the money and convinced him to invest, firmly believing that you cannot go hungry as long as you own something tied to the earth. Since then, it has slowly morphed from a neglected side project to a daily obsession that takes most of his hours.
It takes less then fifteen minutes to drive from the city house to the gates to the ranch property, taking a narrow, serpentine country road uphill, praying that another vehicle does not appear behind the next curve. The road is cut into the side of a mountain, with acacia and blackberry brambles separating it from the fields and meadows. The last twenty or thirty yards are lined with young plum trees that one of the neighbors who owns the approaching path to the land planted a decade ago. In a never-ending squabble akin to the Hatfields and McCoys, the elderly neighbor, who lives there permanently with his wife, sneaks over the border and steals Father's prized evergreens, exotic kiwis, figs, and gooseberries that he's collected from nurseries all over the country.
Father inherited an old shack, an orchard, and a vineyard. He had the shack leveled and in its place there is a log cabin he had transported from far away, falling in love with it the instant he had seen it. Thirty years later, it is still being fixed, polished, and equipped. The view from the porch is spectacular, the red roofs in the valley appearing as if a part of a fairy tale, marred only by an occasional skyscraper. The orchard and the vineyard he kept, but just like the cabin, they continue to be works in progress. He is constantly cutting trees down and replanting new ones, always on the quest for exotic and different fruit. Whenever he visits us in the U.S., he stares at trees, collects fallen chestnuts and every holiday season he returns home with a baggie full of various nuts.
Whenever he tried to enlist our help with any of the agricultural work he so ambitiously took on himself, we complained, whined, and found every excuse not to accompany him "to the Hills", as he called the place endearingly. To us, as teenagers, there was nothing endearing in spending an eagerly awaited weekend picking fruit, weeding, getting dirt underneath our fingernails, and sweating profusely under the spring sun, while we envisioned our friends getting together for a game of volleyball, a matinee, or a casual get-together in someone's home. We went when we absolutely had to, when his patience wore thin, and we could predict a volcanic outburst and withdrawal of allowance for the weekend.

Father is still a genius diagnostician who can decipher a medical problem with several variables within minutes, but he cannot change a light bulb, nor plug in a brand new telephone (do not ask how he handles his cell phone). He approached farming with the energy, vigor, and ignorance of a child, collecting bits and pieces of information and formulating a grandiose plan for his precious "Hills". An organic farmer who firmly believed in not using pesticides, he grew potatoes the size of walnuts, allowed a bunch of emaciated wild squirrels to feast on a pile of hazelnuts, and brought home produce that needed hours of cleaning and care before it could be used.
When there were barely three or four varieties of local tomatoes at the Farmers' market, he grew a dozen. Before anyone had even heard of rainbow chard, he planted three rows. He collected seeds from American varieties of squash, zucchini, pumpkin, and cucumber, and brought proudly home bushels of tiny, weird-looking, and oddly-shaped vegetables every single day. Our kitchen in the summer months turned into a preserving factory, jars, bottles, and plastic containers hastily filling the pantry and cellar shelves, or finding a temporary home in one of the huge box freezers kept in the garage.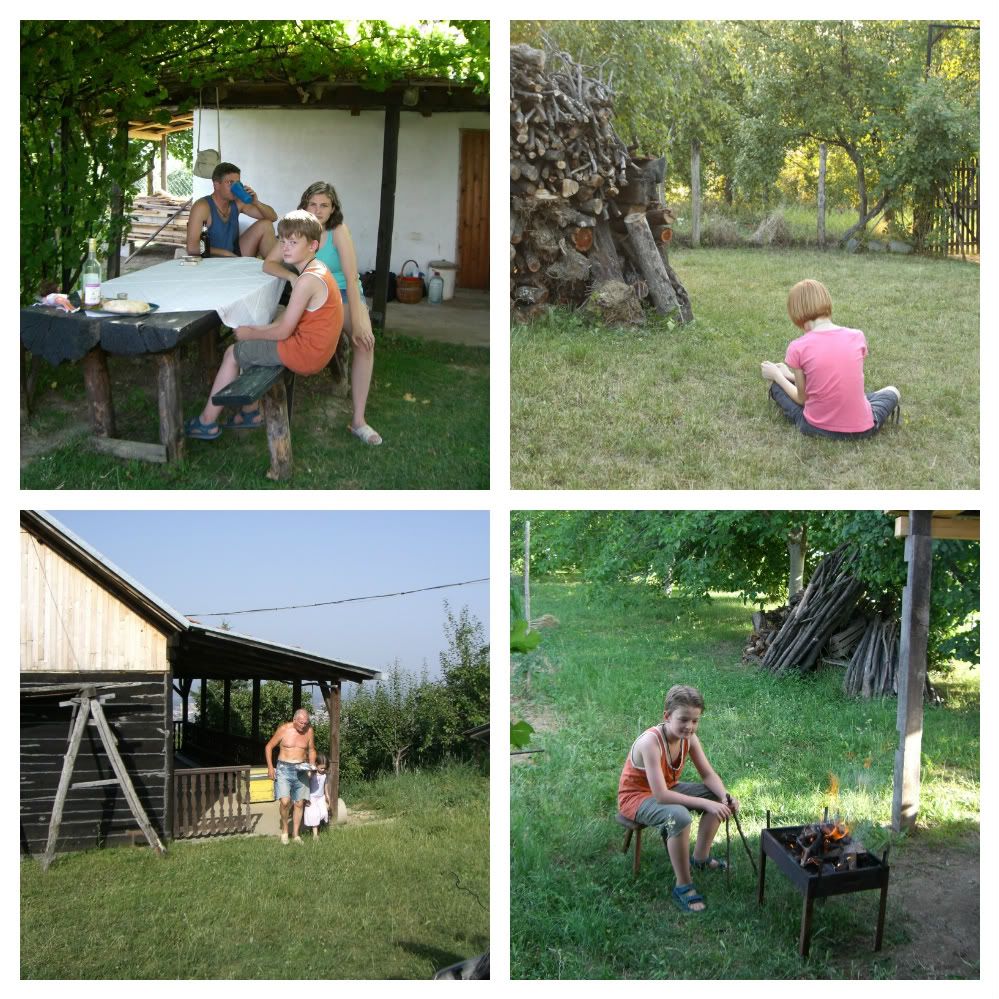 The British royal family would be tremendously jealous of his carefully tended natural grass, spreading from the gate all the way down the slopes, reaching between the rows of grape vines and the whitewashed trunks of his fruit trees. In accordance with his OCD, Father keeps "the Hills" immaculately clean and organized. He built a chicken coop and raised chickens. He kept bees. He even bought a dozen or so young turkeys and managed to nurture them until they were ready to become a golden brown and delicious roast for one of the holidays.
With a heavy heart, he mourned the demise by one of his two pheasants which a fox dragged through a hole in the fence, leaving a bloody trail in the grass  (the other one flew away with a broken heart). He plans on getting a small flock of sheep to help trim the grass in the orchard and a few bunnies to keep them company. He dreams of finding a home for some goats for milk and cheese.

His zeal never abated, but his strength is waning. He still gets up at the crack of dawn and leaves the house promptly at 6 a.m. He still spends several hours getting a farmer's tan while he diligently picks up the fallen fruit from the grass. And he still brings home baskets and baskets of produce, proudly placing them on the kitchen table or on one of the chairs, thinking already of the next day's projects.
The flow of fruit has been relentless and interminable since I arrived here in the middle of July. I accepted every basket, overcome by gluttony, thinking of all the ways I can preserve their summery essence. But every time my creativity took flight, reality jumped in and reminded me that there are going to be only a couple of old people living in the house throughout the winter. And no matter how happy I would feel if I managed to fill those pantry shelves with hundreds of glass jars of beautiful jams, jellies, preserves, marmalades, and compotes, they would sit there abandoned, counting the days that pass without anyone picking a jar and enjoying its contents.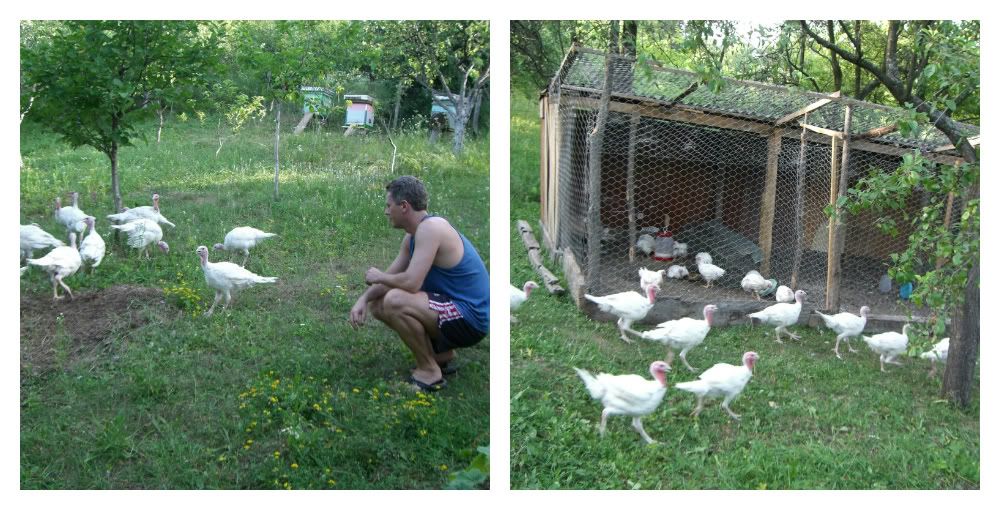 So I traded fruit for smoked ribs, lard, and homemade pasta for the soup. I gave it away to friends, neighbors, and acquaintances. I brought it as a gift instead of flowers whenever I went for a visit. And I kept a very small portion of every basket to preserve a tiny bit to share with my sister in Germany. Some of it we made together, experimenting, adding vanilla and pear liqueur, cutting down the amount of sugar, infusing lemon to keep the color vibrant. Most of it I made alone, while Mother was resting. All my jars are labeled, sitting patiently on the shelves and waiting for the day when they would be meticulously wrapped, sealed, and placed in a suitcase, only to awaken somewhere in sunny California.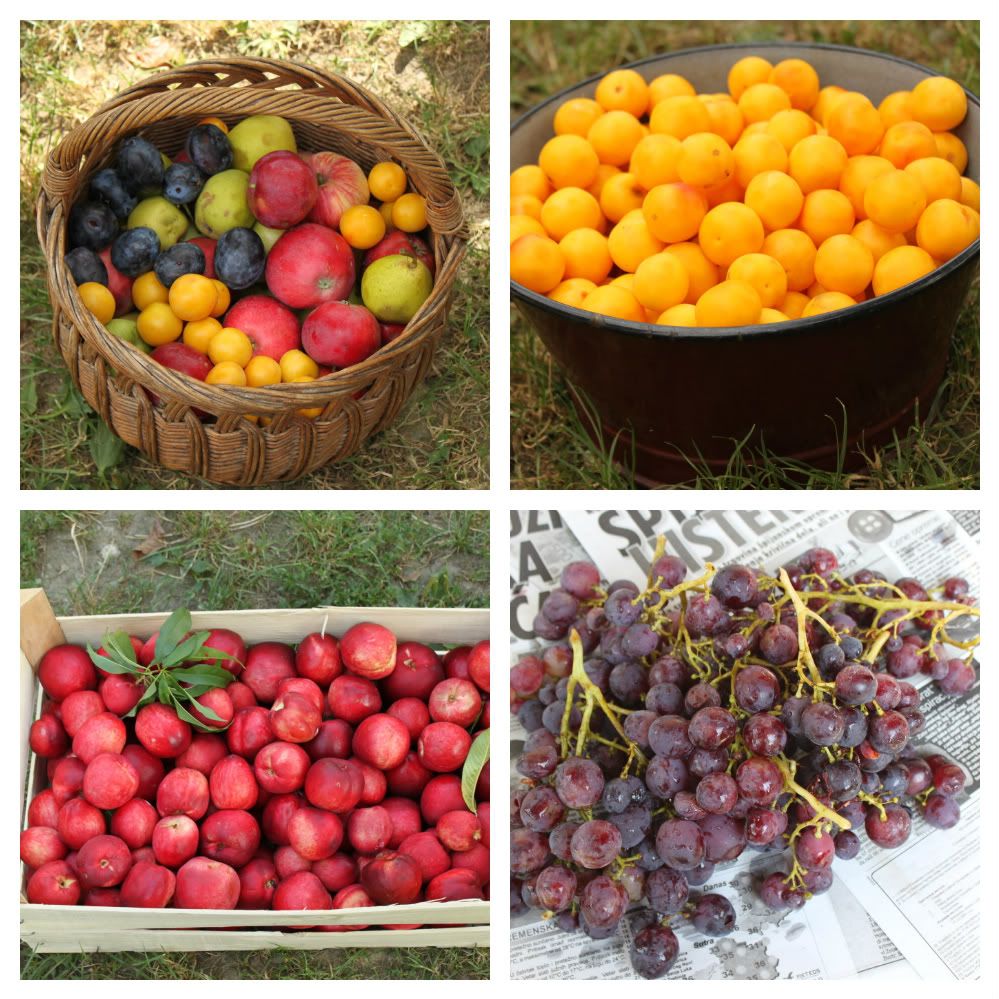 I wish I could take five suitcases and fill them with the preserved fruits of this summer. I know that nothing would make Father happier than the realization that somewhere far away, over the big ocean, across seven hills and seven valleys,  his three granddaughters are greedily piling spoonfuls of jam on their buttered bread at breakfast before school.
I have to write about my preserving projects in future posts. But this is what awaits me in the pantry:
Raspberry jam
Blackberry preserves
Red currant jam
Damsel plum preserves and jam
Nectarine jam
Plum jam, preserves, and marmalade
Peach jam
Cornel cherries liqueur
Apple, pear, and carrot juice