I make mayonnaise from scratch, and I stash the leftover egg white into a ziploc bag, adding them in one by one over time, and updating the number with a Sharpie. Yesterday, I decided to organize both the box freezer and the small one above the refrigerator, and as a result, unearthed massive amounts of food completely forgotten, languishing sadly in the dark and frosty corners. One of the newly rediscovered treasures was a baggie holding five frozen egg whites.
Later that day, I was searching the net for a chocolate recipe by Giada de Laurentiis, who is a featured chef in the I Heart Cooking Clubs blog event, and there it was, a beautiful vessel for my lonesome egg whites: Chocolate Hazelnut Kisses. You might find a squirrel without a stash of nuts, but not a Serb. I emptied the bag of hazelnuts onto a baking sheet, shoved them into the oven, and waited impatiently for the heady, rich smell of roasted nuts. As soon as the first whiff reached my nostrils, I went about collecting the other ingredients, pivoting on my left foot (that's how big my kitchen is). While stirring, I was anticipating the magic that would emerge from the union of chocolate, hazelnuts, cocoa, honey, vanilla, and egg whites.
It did not take long to recruit my ever-ready youngest Beastie to help me with piping the rosettes (after all, who else would sacrifice their precious time to lick the bowl and the spoon?), and let them dry for a couple of hours (the recipe calls for drying them overnight, but for my lack of planning I could not abide by the rules). When the time came, three polka-dotted sheets went into the oven. The comforting and warm aroma of chocolate joined the lingering hints of hazelnuts, and drove both Beasties and Husband from their lairs. While the kisses were cooling off, I melted some chocolate, gave each girl a teaspoon, and showed them how to assemble the sandwiches. Then, I retired to the couch with a glass of wine.
The cookies were everything I thought they would be: chewy, not too sweet, intensely flavored by nuts and cocoa, and small enough to be eaten in one or two bites (depending on the tester). They reminded me in texture of the Parachute Cookies my grandmother Njanja (pronounced nya-nya) used to make with ground walnuts and egg whites, bound together by chocolate buttercream.
We still have a lot of kisses to consume. Today is Halloween, and the Beasties are getting ready to scare or charm some unsuspecting neighbors into giving them as much candy as they can carry (we have a Gypsy and a Hannibal Lecter in the repertoire this year). Nobody will want to eat Giada's cookies tonight. But I bet they freeze well, just like those Parachute Cookies. And when the chocolate cravings become hard to resist, in a week or two, I will know just where to find the remedy. Providing my freezers stay neat and organized.
CHOCOLATE HAZELNUT SMOOCHIES -BACI D'ALASSIO (Giada de Laurentiis on FoodTV)
Ingredients:
3 cups whole raw hazelnuts
2 cups sugar (I added only 1 1/2 half cups – I do not like my chocolate treats too sweet)
2 tablespoons unsalted butter, melted plus additional unsalted butter for baking sheets, optional
1/2 cup Dutch-process unsweetened cocoa-powder, sieved
1 tablespoon honey
2 teaspoons vanilla extract
4 or 5 egg whites, at room temperature
3 ounces semisweet chocolate
Preheat an oven to 350 degrees F.
Spread the hazelnuts in a single layer in a shallow pan and place them in the preheated oven, turning every now and again, until lightly toasted and the skins begin to blister, 15 to 18 minutes. Remove from the oven and let cool for 10 minutes. Then, working in batches, rub them between the palms of your hands until the skins loosen and fall away. (This will take some time and not every bit of skin will rub off.) Chop the hazelnuts coarsely. Using a nut mill, blender, or a food processor fitted with the metal blade, grind the hazelnuts to a fine powder. (If the nuts do become oily, pass them through a sieve to break up any lumps.)
Place in a large mixing bowl and stir in the sugar. Add the butter, cocoa, honey, and vanilla and mix thoroughly with a wooden spoon. Add the egg whites, a little at a time, mixing well after each addition. Add only enough of the whites for the doughto take on the consistency of a loose paste or spritz cookie dough. Do not worry if all of the egg whites are not used.
Line 2 baking sheets with parchment paper or grease them with butter. Spoon the hazelnut mixture into a pastry bag fitted with a No. 6 star tip. Pipe out rosettes 1 inch in diameter onto the prepared sheets, spacing the rosettes about 1 1/2 inches apart. You should have about 60 rosettes in all. Let the rosettes sit, uncovered, at room temperature overnight.
Preheat an oven to 375 degrees F. Bake the cookies in the preheated oven until firm to the touch but still moist inside, 8 to 10 minutes. When they are done they will not brown and may even look undercooked, so you must test by touch. Remove to wire racks to cool completely. Meanwhile, melt the chocolate in the top pan of a double boiler placed over simmering water. Remove from the heat and let cool to room temperature, stirring occasionally.
Gently turn half of the cookies top sides down on a flat surface and spread about 1/2 teaspoon chocolate on each of the upturned bottoms. As each cookie is coated, press a plain cookie onto the chocolate, bottom side down, to form a "sandwich". Lay the cookies on their sides on a tray or flat plate and refrigerate for 15 minutes to set the chocolate. Store in a covered container, at room temperature, for up to 1 week.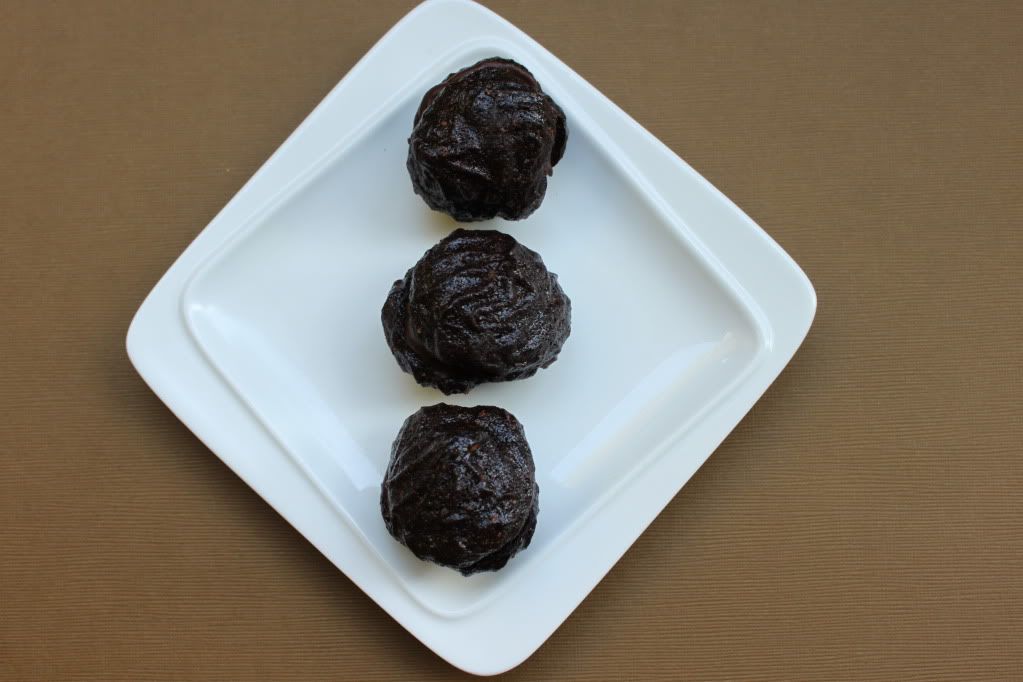 I am submitting this recipe to I Heart Cooking Clubs, Chocolate Cravings.