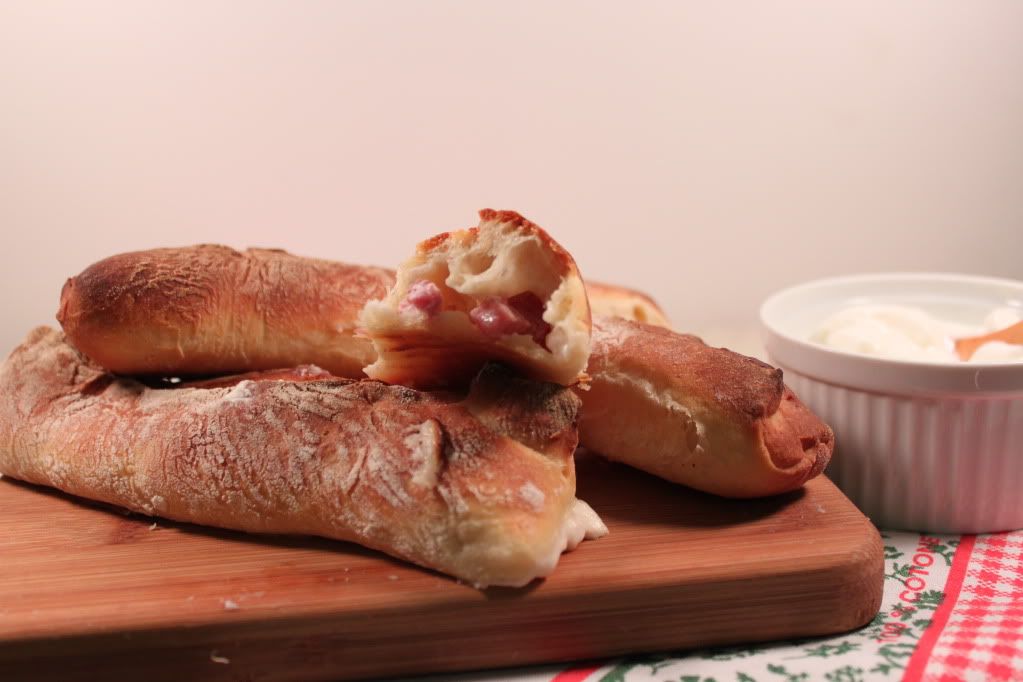 Our family car was a bright orange Russian-made Lada which stood packed since the early hours of the morning with several suitcases holding the beginnings of my new life in the big city. Tucked neatly and methodically around them, using every inch of available space in the trunk with a Tetris-like precision were checkered linen bags holding Mother's praised preserves (wild strawberry, bing cherry, quince, and blackberry), along with apricot and plum jams, ajvar*, and jars of pickled peppers and cucumbers. Carefully wrapped and insulated bottles of Father's golden hued plum brandy (the beloved "šljivovica" or slivovitz) were strategically placed to fill the gaps between bags. A special heavy-duty tote occupying the seat next to me was filled with home-cured Serbian delicacies like pršuta, smoky bacon, and a string of plump garlicky sausage links. The package was topped with plastic containers packed with fresh white farmers' cheese and kajmak**, which Father bought at the green market at dawn.
Everybody was out on the street in front our house to say goodbye to me: my sister and my brother, Njanja, Deda-Ljubo, some of my friends who were not leaving town for college, and several neighbors. I was sobbing inconsolably, burying my head in my brother's shoulder, and caressing my sister's wet cheek. The unsuspecting passers-by were turning their heads down and away, uncomfortable witnessing this heart-wrenching scene, convinced that some horrible tragedy must have befallen this wailing family.
I was heading to the University of Belgrade, the capital city, a mere three hours away by bus, two hours away by car, and just over an hour hitchhiking, especially if you lucked out and stopped one of the crazy drivers from the town of Užice who seemed intent on sending the needle of their speedometers crashing out the passenger side window (I shudder now just thinking about it, but back in those days I had a secret affair with any adrenaline rush).
I cried because I finally realized that I was leaving behind my town, my family, and my home. It would not matter how many times we talked on the phone and how often I would take the last bus on Friday night to surprise them, our lives, so connected and intertwined until then, would inevitably start to diverge and follow different paths. I cried for the computer games I would not play with my brother and his friends, even though he banished me a hundred times for constantly ruining his joysticks. I cried for the empty half of the pull-out bed I shared with my sister. I cried for the magnolia tree Deda-Ljubo planted in the yard right next to the old-fashioned cast iron water pump. I cried for Father's sullen admissions of affection and Mother's love, omnipresent and eternal.
With one look at his watch, Father broke the farewell party. The time of the scheduled departure had arrived. He started the engine as I was entering the back seat, still holding my sister's hand. Slouching in his wheelchair, my beloved eighty-something step-grandfather, Deda-Ljubo, a veteran and invalid of WWI, was drying silent tears with his white, blue-bordered cotton handkerchief, waving to me with a trembling hand, when Mother ran down the steps, carrying the last plastic container destined to accompany us to Belgrade. She nestled in the front seat, closed the door, and the Lada took off like a sad rocket prototype intent on carrying me to another world, another planet, another life. Half of my body was hanging through the window, while I tried to take in the last imprint of my childhood, damning the tears and blessing the gravity that would forever draw me back home. I was wishing that the hundred yards to the corner would go on indefinitely, like in a dream, but in a couple of seconds, my house and my world disappeared.
I cried, holding Mother's hand half-way to Belgrade. After we passed the tunnel, Mother opened the plastic container sitting in her lap and gave me a "piroška" that she made just minutes before we left. Famished, I attacked the perfect little bundle of ground meat and onions rolled into a tender, miniature burrito-shaped crepe, dipped in flour, eggs, and breadcrumbs, and sauted until crisp. The familiar flavors filled the abyss in my soul and abated my tears. Somehow, I survived he rest of the trip.
We arrived at my Aunt and Uncle's apartment, lugging the bags and suitcases to the phone booth of an elevator. There were hugs and kisses at the door, the boisterous hoopla typical of Slavic manhugs, and the tears of women that were so opposite the tears of a few hours ago that they seemed almost to run up their rosy cheeks, cried out by smiles rather than pooled eyes. The shoulder-patting and and giddy squeals softly gave way to a welcome round of whiskey and Turkish coffee, and a great dinner prepared by my Strina-Pašana, accompanied by hefty pours of Vranac red wine from Čika-Aco's hospitable hand.
After a mandatory nap, Father announced that the time had come for him and Mother to return home.  As is a custom in our parts of the world, everybody came down to the parking lot to say their goodbyes. I hugged both of them, trying in vain to stop the tears from welling and overflowing my eyes. The orange Lada slowly pulled away. The last image I remember is Mother's face glued to the window, shaking in wordless tears.
The elevator took us back to the eighth floor. I unpacked my bags and lined the shelves of my cousin Maja's half-empty armoire. I sat on the edge of the bed that was suddenly mine, feeling utterly lost and alone. My Strina-Pašana brought me and Maja some coffee. We drank it in silence, not knowing what to expect. We exchanged a few words and spent the rest of the night carefully avoiding each other.
When everybody was comfortably tucked into their beds, I tiptoed to the kitchen and grabbed one of Mother's "piroške". I sat at the kitchen table, savoring every morsel, slowly realizing that certain parts of my previous life were as portable as my heart and that I could take them anywhere life might lead.
This recipe is for a completely different kind of "piroške". Instead of the mini-crepes it is made with a potato yeast dough. Instead of the ground beef and onion, it is filled with ham and sour cream. Instead of a flour-egg-breadcrumb finish, it is deep-fried just as it is.
Mother's recipe will have to wait for some future day when the right Muse knocks on my door and the gods of family life grant me enough time to properly reproduce the flavor that I crave. In the meantime, I give you the recipe for "piroške" that I found on my fellow Serb, Jelena's enjoyable blog, "Food for Thought", which she saw on "Le Cuisine Creative", Mignonne's blog filled with beautiful photographs of delectable food.
*Ajvar is a roasted red pepper relish cherished in all regions of ex-Yugoslavia
**Kajmak is a Serbian dairy product similar to clotted cream
PIROÅ KE (FRIED STUFFED YEAST DOUGH, by Jelena, via Mignonne)
I made the whole batch and froze half after the rising. Not willing to spend all the time by the stove frying, I baked half of the piroške. Everybody preferred the fried version. The baked ones were excellent, with a slightly crunchy crust and a very soft middle, similar to bread-sticks. They could also be filled with cheese, ground meat and onions, and mushrooms and onions.
Ingredients:
Dough:
700g of flour ( might need more)
300g of boiled potatoes
40g of fresh yeast
2 teaspoons of salt
100g of butter
4 egg yolks
300ml of warm milk
Filling:
300g of ham cut into cubes
300g of sour cream
black pepper, parsley
Directions:
Boil the unpeeled potatoes, let cool a bit, peel. Mash with a fork. Add salt, yolks, and butter to potatoes and mix with an electric mixer. Place the yeast in warm milk and leave for 15 minutes in a warm place. Add the yeast to the potato mix and half of flour. Slowly add the remaining flour and work with hands to form an elastic dough not too hard. You might need more flour. Leave the dough to rest for 45 minutes. Make the filling and place it in the fridge.
Boil the unpeeled potatoes , let cool a bit, peel. Mash with a fork. Add salt, yolks, and butter to potatoes and mix with an electric mixer. Place the yeast in warm milk and leave for 15 minutes in a warm place. Add the yeast to the potato mix and half of flour. Slowly add the remaining flour and work with hands to form an elastic dough not too hard. You might need more flour. Leave the dough to rest for 45 minutes. Make the filling and place it in the fridge.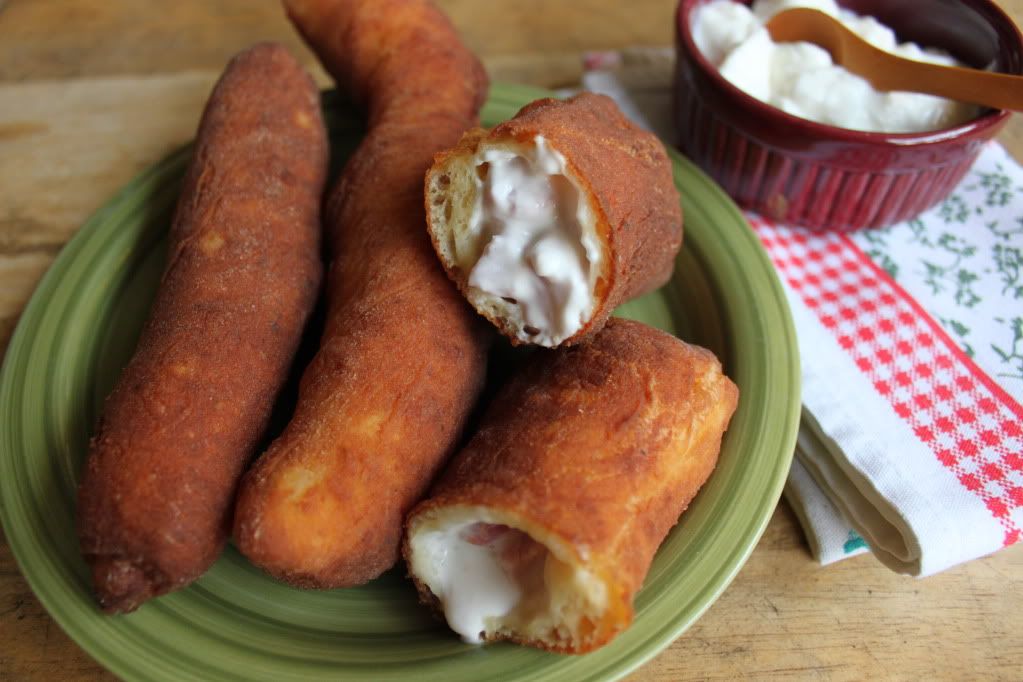 I am submitting this post to Hearth and Soul blog hop event hosted by Alex of "A "Moderate Life" and three other wonderful bloggers.