For a few years, we have been facing some tough times. At moments, the panic would strike and I would not be able to breathe from anxiety, helpless, ambushed by an existential crisis that completely blocked my view. I felt like a rabbit caught suddenly and without a warning in bright headlights, unable to move, frozen, awaiting with dread whatever came at me from the darkness.
The end to our troubles was an elusive, a pie-in-the-sky kind of thing, but I still believed and held firmly to that belief. Passage of time did not bring it closer, as it always stayed far enough away, tempting us with the promise, but never becoming a reality. And now, that there is no more "us", my world changed completely, including new strategies, new goals, and new promises.

There were days when I did not know if the refrigerator and pantry would yield an edible meal for two teenagers, and I would drag out the printouts of all the places in the neighborhood that offered free meals to the indigent people. In time I learned the addresses of churches and temples, but fortunately did not have to use their services and hospitality. I was raised to be Aesop's proverbial Ant and I somehow always managed to put food on the table. It helped that my girls were adventurous eaters, not picky at all, satisfied with whatever they found on their plates.
I want to think that those days are behind me. Freida, who opened her house to us, marvels at all the food that I manage to cram in the fridge, freezer and pantry, assuring me that I am not the only one who draws comfort from it. I don't really want to do it, but in my head I keep a tally of all the meals I can prepare from the food I diligently dragged home. Just like there has to be some money stashed somewhere for emergencies, so there has to be emergency food. Once bitten, twice shy, they say. I was bitten twice already in my life in the US, and I'd rather be prepared really well.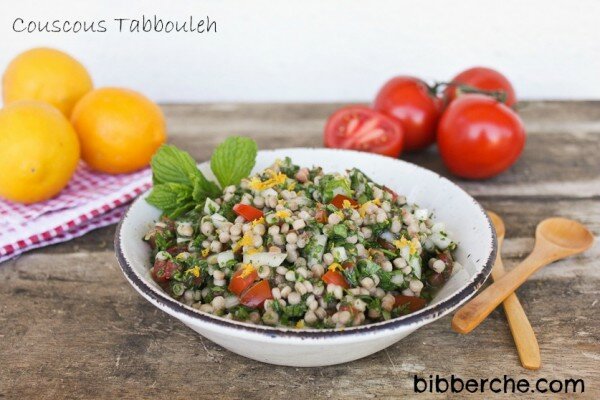 These days I can send my girls to the neighborhood ice cream place with their friends without wringing my hands and second-guessing my decision. I feel secure enough in our family finances to indulge their occasional cravings for a milk shake or an In-N-Out hamburger. And I deliberately silence voices in my head who pipe up immediately as soon as I even think of doing something for myself, trying to make me feel guilty. I have to work on that, but I am determined to prevail.
My finger lingered for a few moments before it pressed the button that would make an online purchase final, but I made it move down. In a few days, the mail man delivered a box from Amazon and in it a beautiful book I coveted for months: , by Yotam Ottolenghi and Sami Tamimi.
Some time back, my friend Beth of OMG! Yummy invited me to participate in Tasting Jerusalem, a virtual cooking group that explores the recipes of this fascinating region as seen by two people who grew up in the city, an Israeli and a Palestinian. For a long time I just watched from the bleachers, unable to take part, anticipating the day when I would be able to bury my face in the book and smell its fresh-from-the-press pages.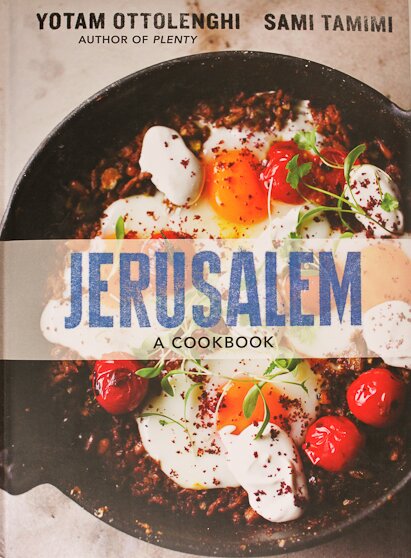 , deserves a post all by itself, but today I have to concentrate on the topic of the month, which is couscous. I have cooked with couscous for many years, ever since I discovered the versatility of these small pasta spheres made of durum semolina wheat. Instead of replicating a recipe from the cookbook, this month's challenge was to come up with our own dish using couscous.
My girls recently developed a love affair with tabbouleh, a zesty Middle-Eastern salad made with chewy bulgur wheat, sweet, ripe tomatoes, pungent parsley, fresh mint, and lemon juice. Substituting toothsome whole wheat Israeli couscous for bulgur wheat was a no-brainer and the results did not disappoint. I used mint that grows rampant in the bed of calla lillies and lemons from the yard next door. I only wish the tomatoes came from the garden, but that will have to wait for a few more weeks.
I don't know if I will win the contest for the most creative use of couscous. I am just excited to be a part of this group that takes me virtually to a city I long to visit one day soon. It all started with a hesitant press of a button, an action that was not possible for me even a month ago, a deed that seemed courageous and momentuous that left me feeling comforted and content…Almost like a glance into my fully stocked pantry.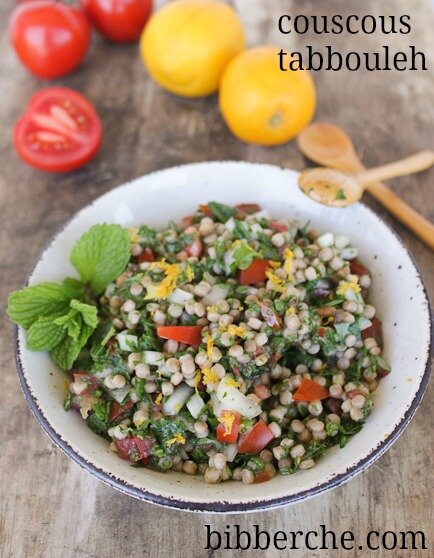 Recipe type:
Salad, Starter, Side Dish
Prep time:
Cook time:
Total time:
Use Israeli or pearl couscous instead of bulgur wheat in this healthy, flavorful Middle-Eastern dish.
Ingredients
1 cup of Israeli couscous (I used whole wheat variety)
1¼ cups water
2 ripe tomatoes, chopped finelly
1 small onion, diced finelly
1 bunch of parsley, minced (about ½ cup when done)
½ bunch of mint, minced (about ¼ cup when done)
1 Tbsp lemon juice
1 tsp coarse salt
½ tsp freshly ground pepper
¼ cup extra virgin olive oil
Instructions
Place couscous in a pot of boiling water and simmer for 10-15 minutes on low temperature, until it softens and the water evaporates.
When cooled, add all the other ingredients and mix thoroughly until combined.
Serve with pita chips as a starter, or as a side dish alongside a Middle-Eastern entre.
"Tasting Jerusalem is a virtual cooking community exploring the vibrant flavors and cuisine of the Middle East through the lens of by Ottolenghi and Tamimi published by Ten Speed Press. You can follow along and cook with us by subscribing to omgyummy.com, following the hashtag #TastingJrslm on Twitter and Instagram, and liking our ."